Did you know homemade dressings are one of the easiest condiments to make yourself? It's true. I can easily whip up a batch of ranch dressing in just a couple of minutes! I don't know why I spent so many years purchasing costly pre-made salad dressings that are filled with nasties and not nearly as flavorful.
Never mind, I do know why I did. It's because we've been programmed as a culture, that is just one of those things you purchase. I'm here to tell you, you don't need to!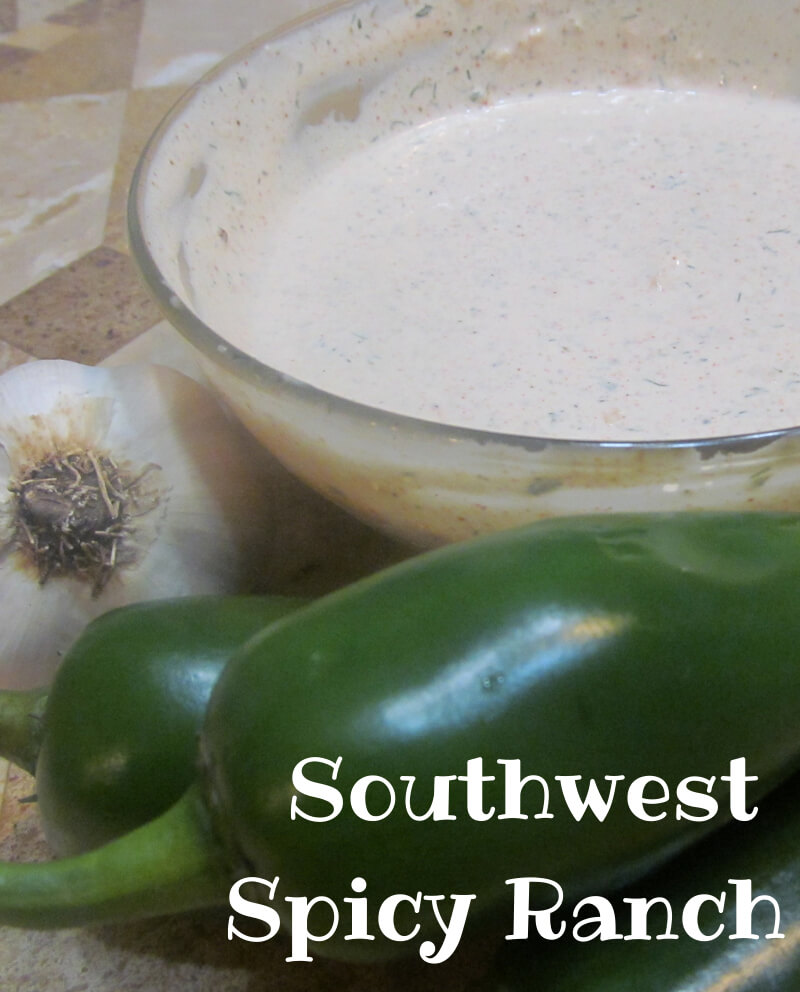 Scary Ingredients in a Popular Ranch Dressing
Check out the image below. I've hi-lighted some of the questionable ingredients by underlining them in red (some of the ingredients I don't even know WHAT they are).

Some of the biggest red flags: soybean and/or canola oil, more soy, monosodium glutamate, artificial flavors…and more. Yuck, yuck, yuck!
Southwest Spicy Ranch
One of my families favorite dressings is a Ranch style dressing, but one of my (and my oldest sons) fave dressings is this southwest spicy ranch. It makes our taste-buds tingle! If you like spicy, but not that spicy then you'll probably want to go easy on the cayenne pepper.
This dressing goes particularly well on our favorite steak fajita salad, but we enjoy it on a side salad too. It also makes an awesome dip to go with veggies. If you enjoy spicy and you are a fan of ranch – this one is for you!
Not much for spicy dressings? Check out some of our other family favorites including this Creamy Balsamic Vinaigrette dressing or this Creamy Parmesan dressing.
Ingredients:
1 c. mayonnaise (be sure to make up a batch of homemade mayonnaise for the fridge and use it in all of your favorite dips and dressings)
1/2 c. sour cream
4 T. milk
2 T. minced onion
1 t. parsley
1/2 t. hot sauce
1/2 t. salt
1/2 t. paprika
1 t. dill weed
1/4-1/2 t. cayenne pepper
1 t. cumin
1/2 garlic powder
1/2 t. pepper
Directions:
Mix all ingredients. If the dressing is too thick, use more milk to thin it out. Easy peasy! Enjoy on your favorite salad or use as a dip for your veggies!
Do you make your own ranch dressing?
____________________________________________________________________________________
Trisha is a happily married homeschooling mom to 4 rambunctious, lovable boys. She and her husband blog at IntoxicatedOnLife.com where all of their interests on healthy living, faith, family, and homeschooling collide. Trisha founded BreastfeedingPlace.com and hopes that everyone who visits finds fantastic information and leaves feeling encouraged. You can check out Trisha's personal blog and follow her on facebook, twitter, pinterest, and google +.