What does this summer giveaway have to do with *you*? Well, if you like smoothies (ice cream? soup? dip? food?), could use some pampering or want to add some awesome essential oils to your arsenal, keep reading!
Are you excited for summer? We are! In fact, we're excited to be bringing you an amazing chance to get all the tools you need to be healthy this summer. With three winners being selected and over $700 in prizes it's sure to be fun!
We have a giveaway this month geared towards anyone wanting to be healthy and even a little pampered. We're starting with spa products, then moving on to natural healing, and finishing with the perfect blender for smooth summer treats. Let's take a look at the prizes! (After our recent move to TN, the NYR Organics set looks pretty delish to me. 😉 Just sayin'…)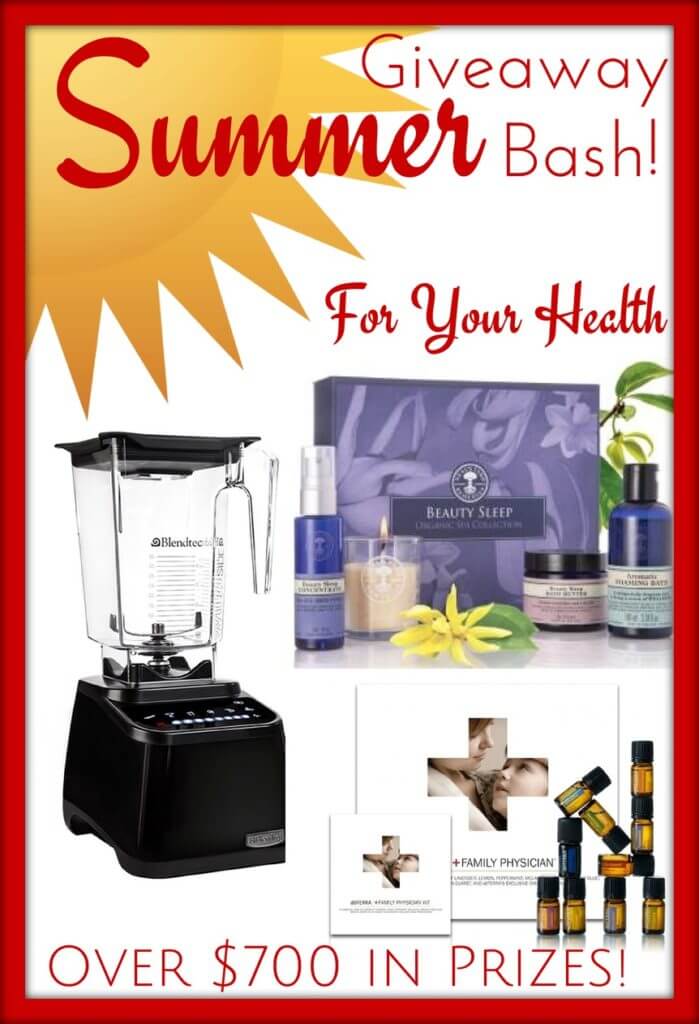 Summer Giveaway Bash – The Prizes
3rd Place: NYR Organics Spa Collection ($93.94 value)
Sponsor: Anjanette Barr – NYR Organics Consultant
Anjanette Barr is giving away a delightful collection of NYR Organics products to one lucky winner. NYR Organics encourages a more natural, holistic way of of health, beauty, and well-being. This collection includes:
Beauty Sleep Organic Spa Collection from NYR Organic: Aromatic Foaming Bath, Calming Aromatherapy Candle, Beauty Sleep Concentrate, and Beauty Sleep Body Butter. Nourish your skin and soul at night and wake up beautiful
Re-usable organic cotton tote
Organic Night Time Herbal Tea
2nd Place: Family Physician Pack ($215 value)
Sponsor: Natural Medicine Mom – Jenni Wilson
Natural Medicine Mom is giving away a doTERRA Physician Pack to one lucky winner! Jenni Wilson is a author, speaker, and natural educator that teaches women, moms, and a few brave dads, to be confident in using natural remedies for their family's health and home medicine. This collection includes:
A Family Physician Kit, made by doTERRA Int, ($167 value)
Modern Essentials: A Contemporary Guide to the Therapeutic Use of Essential Oils, hardcover reference book, 4th edition ($26 value)
Trust Your Intuition: 25 Natural Medicine Confessions From Influential Women Who Choose Healing Remedies For Their Families, paperback ($16 value)
1st Place: Blendtec Blender and Twister Jar ($470 value)
Sponsor: Blendtec
BlendTec is graciously giving one lucky winner an awesome Designer Series blender along with their Twister Jar! BlendTec is considered one of the leading companies in professional blenders that offers trouble-free blending of just about anything. This prize includes
One BlendTec Designer Series Blender
Twister Jar
Enter the Giveaway Below!
This giveaway runs for June 24th to July 1st. There will be 3 winners – 1st, 2nd, and 3rd place and is open to individuals living the the USA. Enter below and don't forget to share this great giveaway (and the above fabulous coupon codes) with your friends!
Which prize do you hope to win?